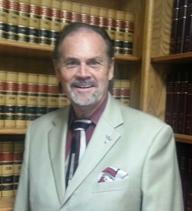 Senior Partner
The Law Office of Kampf, Schiavone & Associates, A.P.C. announces the passing away of its founder, Roger W. Kampf. Mr. Kampf was born on August 12, 1943, and passed away on November 13, 2021, in Yucaipa, California.

Details regarding the memorial service can be found by clicking here.

Personal Experience & Biography
W. Roger Kampf founded KSA in 1985. Prior to KSA, Roger worked for over 17 years as supervisor and senior adjuster of workers' compensation and personal injury cases for Aetna Casualty & Surety. During this 17 years Roger developed a keen knowledge of medical malpractice and products liability cases by investigating, and helping Attorneys prepare for trial and assisting them during trial in Asbestosis, Birth Control Pills, IUD's and Medical Malpractice cases as well as the usual automobile collisions and slip and falls. Roger used his knowledge of the inner workings of the insurance industry to prepare and position his client's cases for settlement and/or Trial. Roger, was never shy to go to trial. In his 48 years in the injury field, Roger tried over 150 cases in the areas of medical malpractice, elder abuse, product liability, automobile crashes, slip and falls, workers compensation and social security, many resulting in multi-million dollar recoveries. Roger handled cases in California, Texas, Nevada, Arizona, Colorado, Oregon, New Mexico and Washington. Roger's hobbies include golf, poker, reading and ice hockey.
Certified Legal Specialties
Professional Associations & Memberships
$6.1 Million
Product Liability
John D. – Defective Throttle
$3.1 Million
Workers' Compensation
Diana C. – Fell on the Job
$2.5 Million
Machine Liability
Kim D. – Amputated Fingertips
$1.9 Million
Miscellaneous Liability
Don W. – Run Over By Scraper Tractor
$1.6 Million
Miscellaneous Liability
Fred R. – Pool Drowning
$1.4 Million
Workers' Compensation
James I. – Fall from Height
$1.3 Million
Personal Injury
Roger R. – Auto vs. Pedestrian
$1.2 Million
Medical Malpractice
J.V. – Failure to Diagnose
Talk to an
Attorney
for FREE