According to California labor laws, all workers are entitled to safe working conditions. Employers must maintain a safe working environment by identifying and immediately addressing any safety hazards. They are legally obligated to carry workers' compensation coverage for all employees to provide protection for injured workers. If a worker sustains an injury on the job, they have the right to file a workers' compensation claim. A successful claim can mean the victim can recover damages they incurred due to their injuries, including medical expenses and a portion of lost wages. Still, the workers' compensation system can be complicated and challenging to navigate. Many claims are denied due to simple mistakes, such as failing to report their injury and file their claim within the state's statute of limitations.
If you have been injured at work or while performing work-related duties, review the information below to learn more about workers' compensation and determine if you qualify to recover damages for your workplace injury. Then contact Kampf, Schiavone & Associates today to discuss your case. Our attorneys can protect your rights, help you prepare and file a claim, and resolve any potential disputes that may delay or otherwise impact your settlement.
What Is Workers' Compensation?
The workers' compensation system was established to provide equal protection for workers and employers. In exchange for surrendering their rights to pursue personal injury litigation against their employers, workers have access to a streamlined system for reporting their workplace injuries and obtaining financial assistance to cover medical expenses resulting from these injuries. In California, this system is "no-fault," meaning workers do not have to demonstrate employer negligence to recover compensation, and they can still file a valid claim even if their own actions contributed to the injury.
Various injuries and illnesses can be grounds for a workers' compensation claim, ranging from severe injuries caused by specific accidents to medical conditions that arise from repetitive stress, overexertion, or repeated exposure to hazardous substances. Injured workers can receive benefits by filing a valid claim according to the state's workers' compensation rules. The most immediate are medical expenses necessary for current and ongoing treatment of their injury. However, they may also receive permanent or temporary disability benefits if the injury causes them to miss more than three days of work or require hospitalization and supplemental job displacement benefits if they need vocational rehabilitation and training to reenter the workforce.
How Do You Qualify for Workers Compensation in Barstow?
If you meet the following conditions, you qualify for workers' compensation benefits:
You Must Be an Eligible Employee.
California employees who work part-time, full-time, or seasonally are eligible for workers' compensation, and this eligibility is not impacted by immigration status. However, there are certain types of workers the law considers exempt from this system:

Independent contractors
Business owners or sole proprietors
Certain kinds of volunteers
Domestic workers related to their employers
Employees who work for housing, food, or other aid instead of wages
Deputy sheriffs and deputy clerks
Students or officials involved in amateur sporting events

Your Employer Must Carry Workers' Compensation Insurance.
While other states make workers' compensation coverage conditional on the number of workers a business employs, California requires that every business provide such coverage for all employees, regardless of the size of the business. Failure to carry appropriate coverage is against the law. In cases where injured workers do not have workers' compensation available to them, they may be able to file a personal injury claim against their employer to recover damages.
Your Injury or Illness Must Be Work-Related.
For an injury to be considered work-related, you must prove that it arose out of employment and during the course of employment. In other words, you were at your workplace or performing work-related duties for the benefit of your employer when you sustained the injury. Injuries are not work-related if they occur under the following circumstances:

During a lunch break or while at a company social event
While violating workplace safety rules
During the commission of a crime
As a result of purposefully trying to hurt yourself or others

In most cases, commuting to and from work are not work-related, except when:

You are required to use your personal vehicle for business.
You travel regularly for work and do not have a fixed workplace.
You are driving a company vehicle, on a business trip, or performing errands for your employer when you sustain the injury.

You Must Follow State Reporting and Filing Deadlines.
For your claim to be regarded as valid, you must report your workplace injury to your employer within 30 days after the injury occurs. Your employer should provide a workers' compensation claim form for you to fill out, in which you present medical evidence of your injury, explain the events leading up to the injury, and demonstrate that the injury occurred during the course of employment. Medical evidence must be gathered from approved healthcare providers, clearly specify the nature and extent of the injury, and support your claim that you sustained the injury because of your occupation or specific work-related duties you were performing.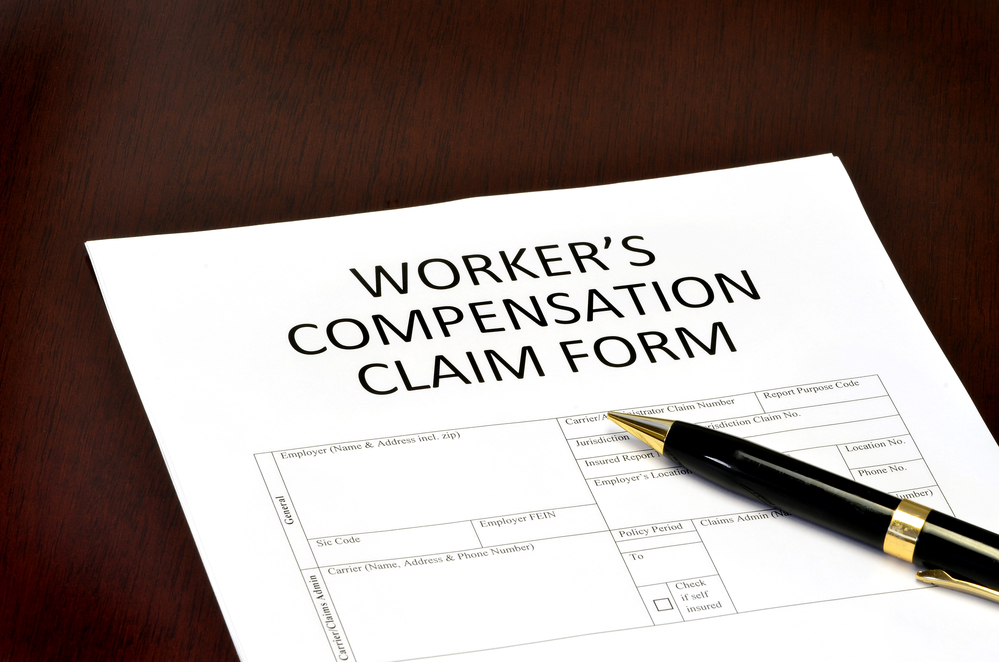 After you file your claim with your employer, it is transferred to your employer's insurance company for review and approval or denial. While investigating your claim, they must offer up to $10,000 worth of medical care to ensure you receive prompt and comprehensive treatment for your injury in the meantime. The insurance company must respond within 90 days after you file your claim to inform you of the results of their investigation. If you do not receive a denial letter during this time, this indicates they were unable to dispute your claim, and you are approved to recover benefits.
You Deserve Fair Compensation for Your Workplace Injury
If you or a loved one sustained a workplace injury, Kampf, Schiavone & Associates can help you successfully navigate the workers' compensation claims process. Although workers' compensation is designed to protect your rights and offer fair compensation for any damages resulting from a workplace injury, having a worker's compensation expert is crucial. Your employer's insurance company may engage in any number of dishonest or manipulative tactics to minimize your injury or deny your claim. Our team has spent over 30 years representing injured workers in Barstow and throughout California, protecting their rights, helping them file their claims, and delivering the best results.
Our firm has the knowledge, experience, and litigation skills to ensure your claim is filed accurately and submitted within the statute of limitations. We can help you gather evidence that your injury was caused by your job, negotiate with your employer's insurance company to reach the maximum settlement award, and fight back against unjust claim denials in court if necessary. With our help, you can recover the compensation you deserve to recover and regain financial stability after your injury. Contact Kampf, Schiavone & Associates today to schedule an initial consultation with our team.