Moreno Valley
Workers' Compensation
Lawyer
Moreno Valley Workers' Compensation Attorney
Every year, millions of workers around the country experience workplace injuries, resulting in significant medical expenses and loss of income. The US Bureau of Labor Statistics found that more than 2.8 million nonfatal workplace injuries occurred in 2019, or 2.8 injuries for every 100 full-time workers. In response to the prevalence of workplace hazards, state governments developed workers' compensation laws to support workers as well as to protect employers from expensive personal injury litigation. Such laws stipulate that employees have the right to a safe and healthy working environment. The law also provides legal options for California workers who sustain injuries when their employers neglect their responsibility.
While workers' compensation provides valuable assistance to injured workers, navigating the system can be frustrating, challenging, and overwhelming. Consider the information below to learn more about workers' compensation, then contact Kampf, Schiavone & Associates today to discuss your case. Our team of Moreno Valley workers compensation attorneys can explain the system, prepare your claim, challenge an unfair denial, and deliver the maximum award for you.
How Does Workers' Compensation Work?
Workers' compensation allows workers to receive restitution for damages they incurred sustaining an injury at work or while performing work duties. State law governs workers' compensation claims, including outlining specific criteria for what injuries are eligible for compensation, the type of benefits they provide, and the statutes of limitations workers must follow to ensure a valid claim.
In California, workers' compensation operates according to a no-fault system. As a result, the recovery of damages does not depend on proving negligence, as is required for personal injury claims. Regardless of what caused the injury, you can pursue compensation for medical expenses, disability benefits, lost income, and other costs associated with recovery and reentry into the workforce.
What Rights Do I Have as a Worker in California?
All California workers have the following legal rights:
The right to pursue a workers' compensation claim for a work injury
The right to receive medical treatment for the injury
The right to retain a workers' compensation attorney for legal representation and aid during the claims process
The right to continue working in the same job you held at the time of the injury, after your doctor determines you are fit to return
The right to seek temporary or permanent disability benefits if the work injury prevents you from maintaining employment
The right to file an appeal in response to any decisions from your employer, their insurance company, or workers' compensation court
Workers' compensation also gives you the right to deny any offers or requests your employer may make in an attempt to avoid payment of your claim. An employer that harasses you, punishes you, makes your working environment unnecessarily difficult, or otherwise retaliates against you in any way after you make a workers' compensation claim is engaging in illegal behavior and can face serious penalties. Influencing you against filing the claim or trying to convince you to use your personal health insurance for medical treatment are common tactics. A Moreno Valley workers' compensation lawyer can help you handle this kind of situation to ensure the preservation of your rights.
What Injuries Does Workers Compensation Cover in Moreno Valley, CA?
A workers' compensation award covers at least half of the total expenses related to a work injury. It will cover the total cost of medical treatment and usually supplies income replacement at around two thirds of what you would have earned during the time you are unable to work. This system also enables recovery from long-term injuries or illnesses caused or worsened as you performed your work duties. Working can worsen pre-existing conditions, lead to physical or mental conditions due to stress, or create repetitive motion injuries, such as tendonitis or chronic back issues.
To recover compensation, California workers must prove they sustained the injury at work or while performing work-related tasks. Fortunately, workers' compensation covers the vast majority of work injuries, even when your own carelessness directly contributed to the injury. However, certain situations are exempt from workers' compensation. If you were committing a crime, disobeying company policy, or under the influence of alcohol or drugs, your claim is invalid, and you will be unable to obtain compensation for damages.
What Type of Benefits Can I Recover From a Work Injury After?
With help from a Fontana workers' compensation lawyer, you may recover five distinct types of benefits:
Medical Benefits—Medical benefits cover the costs of medical care or treatment of the work injury. These costs may include surgery, prescription medications, physical therapy, assistive devices, travel expenses for doctor appointments, and other out-of-pocket costs. In certain cases, medical benefits will also cover ongoing or future medical treatment.
Temporary Disability Benefits—Temporary disability benefits are available for injuries that require hospitalization or result in more than three missed days of work. These benefits cover two thirds of the income you would have received during a typical work week before sustaining the injury. After two years, your benefits will either end or become permanent disability benefits.
Permanent Disability Benefits—Long-term and significantly life-changing injuries that prevent you from working are eligible for permanent disability benefits. To calculate this award, the court considers your age, health condition, occupation, and percentage of disability as measured by your doctor. These benefits can amount to less $1,000 or exceed $260,000, depending on the type and severity of your disability.
Supplemental Job Displacement Benefits—An injury that prevents you from returning to your previous form of employment or forces you to enter a different industry can result in supplemental job displacement benefits. This type of award covers up to $10,000 worth of the vocational training or rehabilitation needed to secure adequate employment.
Death Benefits—If your spouse died due to a work injury, you could pursue death benefits to help make up for the loss of income you and your children face without your spouse. The amount of this award is based on the number of dependents involved and begins distributions beginning one year after the date of death.
Do You Need Help From a Law Firm for a Workers Comp Settlement?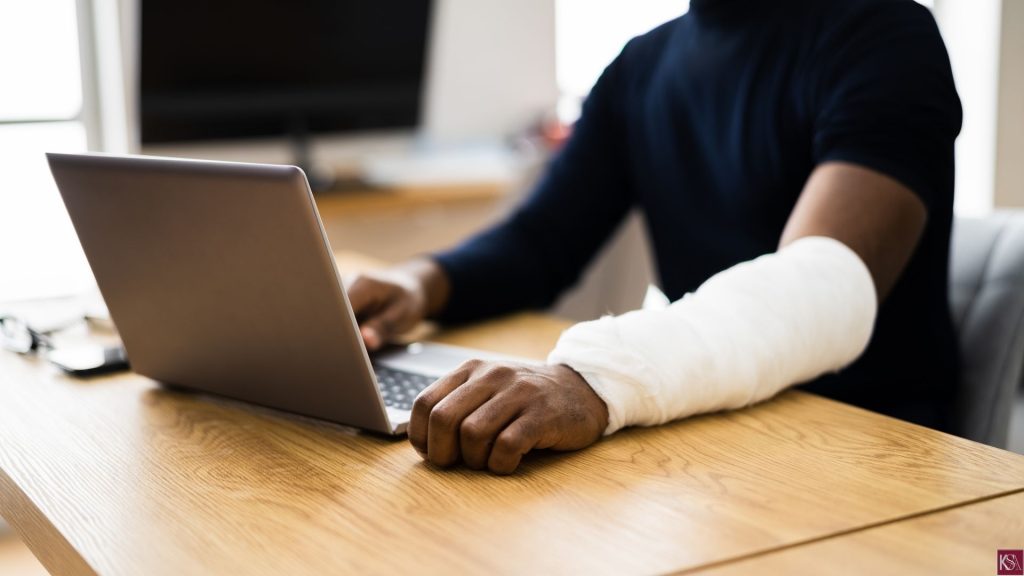 While retaining the services of a lawyer is not necessary for a workers' compensation settlement, it is the most effective way to pursue claim approval and ensure you obtain the maximum award amount. A Moreno Valley workers' compensation attorney will inform you of your rights, explain the claims process, gather evidence to support your claim, and make sure you complete every step accurately and within the statute of limitations.
Moreno Valley workers' compensation lawyers will also negotiate with insurance companies on your behalf and fight against the dishonest tactics they often use to minimize or dismiss claims. Legal representation becomes even more valuable if the courts deny your claim. Entering litigation after a denial can enable you to recover a significantly larger award than you would have received from your initial claim.
How Much Does a Workmans Comp Lawyer Cost?
Workers' compensation attorneys handle cases on a contingency basis, meaning they only charge clients when they win the case and recover compensation. After your Moreno Valley workers' compensation attorney completes your case, whether by negotiating a settlement or securing an award, they make a request to the judge to review and approve their attorney fee. The judge considers several factors when making this decision, such as the complexity of your case, the amount of time and level of care your attorney dedicated to your case, and the results they delivered.
In a typical case, the attorney fee is 9% to 12% of the settlement or award. However, attorneys can choose to charge less than 9% when a case is unusually straightforward. Similarly, attorneys may charge up to 15% for an extremely complicated case that involves extensive investigations, difficult legal issues, or multiple employers.
Can You Sue Your Employer for Workers Compensation?
Workers' compensation was created not only to support injured California workers during their recovery, but also to offer financial protection for their employers. In exchange for the right to pursue workers' compensation, you effectively surrender the right to sue your employer for damages incurred due to your injury. However, there are exceptions to this rule that allow you to pursue a claim outside of the workers' compensation system.
If your injury resulted from the intentional conduct of your employer, you may be able to file a personal injury claim against them. Similarly, if the injury occurred due to gross negligence you may be able to file a personal injury claim. Finally, if your employer is not covered by mandatory workers' compensation insurance, you may be able to file a claim against them in civil court.
Hire an Expert Workers Compensation Lawyer Today
If you sustained a work injury or lost a loved one after an injury that occurred at work, contact Kampf, Schiavone & Associates today. Our Moreno Valley workers' compensation attorneys have helped clients throughout California obtain fair compensation for their injuries. With over three decades of experience, we have the knowledge, resources, and negotiation skills to deliver the best outcome in your case. When insurance companies refuse to play fair, we take them to court and aggressively advocate for you to obtain the maximum award.
Contact Kampf, Schiavone & Associates for a consultation by submitting the form on our website. With over $250 million in verdicts and settlements recovered for our clients, you can rest assured we are dedicated to protecting your rights and bringing you the compensation you deserve.
$6.1 Million
Product Liability
John D. – Defective Throttle
$3.1 Million
Workers' Compensation
Diana C. – Fell on the Job
$2.5 Million
Machine Liability
Kim D. – Amputated Fingertips
$1.9 Million
Miscellaneous Liability
Don W. – Run Over By Scraper Tractor
$1.6 Million
Miscellaneous Liability
Fred R. – Pool Drowning
$1.4 Million
Workers' Compensation
James I. – Fall from Height
$1.3 Million
Personal Injury
Roger R. – Auto vs. Pedestrian
$1.2 Million
Medical Malpractice
J.V. – Failure to Diagnose
Talk to an
Attorney
for FREE